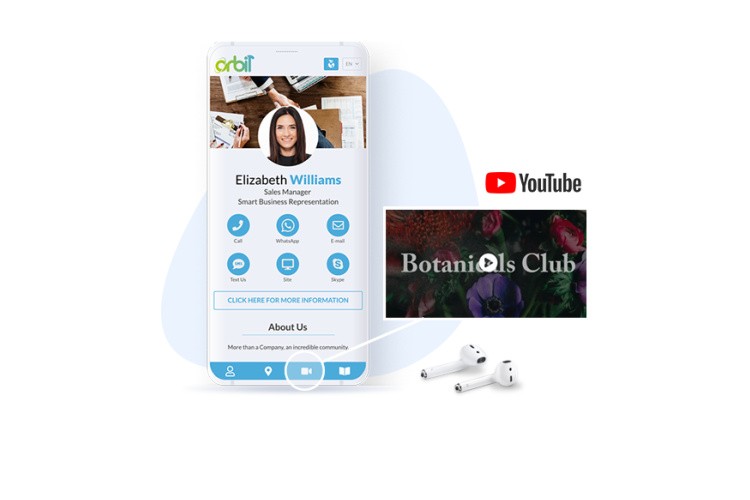 Add Videos to your Digital Card!
It would be possible to put forward numerous and powerful arguments that ensure the importance of including audiovisual content in your business marketing strategy. However, the foundations are self-evident when looking at statistics on their circulation and consumption. At present, 80% of Internet traffic comes from video playback and this number is expected to increase by 2022. Moreover, studies show that visual content is 40 times more likely to be shared than textual content. Not satisfied with that, this format's appeal comes into play, generating a 650% higher probability of being retained by an audience than if only text is used.
With that in mind, the value of videos is out of the question. Therefore, keep in mind the following aspects and tips so that you can fully take advantage of its potential:
Topic: it must be clear from the beginning. The first few seconds will be decisive as to whether your audience will keep watching you or drop out along the way. If you want to draw them in, you should know the wide range of options you have available, generating different types of videos like tutorials, behind-the-scenes, ads of novelties or everyday objects, stories or advertising your product, just to mention a few.
Length: the length of your video has to be short and catch the user's attention throughout its broadcast. It should ideally last between 30 and 90 seconds.
Content: it must be organized, simple and concise, with the least number of words and always target-oriented. You can use lists or a numbered outline to facilitate its production and understanding and thus, achieve a continuous rhythm that allows your audience to follow it easily.
Subtitles: did you know that 65% of videos played on Facebook are viewed through a mobile device and without sound? A video is estimated to increase the average number of views by 12% if it includes subtitles, which should be in colors for easy reading.
Music, transitions and effects: they play a fundamental role. As they are homogeneously integrated with your audiovisual production, they enable you to highlight the message you want to convey.
Call to action: motivates your customers to perform the action you are promoting.
Optimization: makes it possible for your video to be watched smoothly from any device. We recommend playing with the framing and taking full advantage of the space to create content that adapts to your audience's consumption habits.
With all these suggestions, it's time to get to work: your OrbitCard will make the difference!
Article No:: 373
Read: 5232 times
Thank you for your vote
Rate this article: